How to install the BCR eToken?
Choose the BCR eToken option at any of our branches.
1
Activate the app
Enter the personal data received from us
Token series
Authorization code
Activation code
2
Scan your fingerprint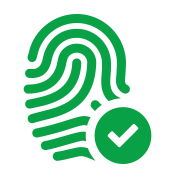 Use your fingerprint to access the application and to confirm transactions. Alternatively, you can opt for a PIN code selected by yourself.
3
Congratulations! You can use the BCR eToken app safely.
Starting today, you can perform your transactions just by using your phone.
4
Ready! You can use the BCR eToken app safely.
Starting today, you can perform transaction at all times, no matter where you are, just by using your phone
How to use the BCR eToken?
☼ Signing in to 24 Banking
Internet Banking
To sign in to the 24 Banking service, open the app, press the "Login" button and insert the PIN code. Your screen will display the one time password (OTP)
☼ Authorizing (confirming) transactions
To confirm (authorize) transactions, open the eToken app, press the "Signature" (Semnatura) button and complete the requested fields (which will be highlighted on the screen):
the amount of the transaction performed through Click 24 Banking BCR, in full format, no decimal separator, for example 563.00 shall be inserted as 56300
the last 4 digits of the beneficiary's IBAN number for the transaction made through Click 24 Banking BCR (if this also includes letters, only the final 4 numerical characters should be entered)
... then, introduce your PIN code and obtain the signature code.
Alternatively, when signing transactions through Click 24 Banking, the eToken also provides the option of using a "QR code signature" (Semnatura cod QR). This allow you to scan the QR code displayed on the Click 24 screen when confirming payment, so that the details required to generate the signature code will be automatically obtained. From there, you will only need to insert the PIN code.
Mobile Banking
The Touch 24 Banking app is perfectly integrated with the eToken, providing a direct and streamlined experience.
When signing in to the app, as well as for signing transactions, all you need to do is press the eToken button in the Touch 24 app, on the relevant screen, insert your PIN code and we will handle the rest.
Read more...
For security reasons, the eToken BCR application does not work on smartphones with removed superuser protection (jailbroken/rooted phones).
This restriction is intended to guarantee the safety of your accounts when making transactions via Internet and Mobile Banking.
You might also be interested in