The number of Romanians whose trust in Romania's economic progress is low is decreasing
Romanian's interest increased, as regards the improvement of the housing condition
High-cost projects are more loan-dependent than the less costly ones
The frequency of Romanians' savings increased
Bucharest, 23 November 2015 – Trust in the national economy is rising year after year, from 2013 it followed a constantly ascending trend, from 27% to 39% in 2015. At the same time, the number of Romanians whose trust in Romania's economic progress is low witnesses a definite decrease from 70% in 2013 to 58% in 2015, as deriving from the market studies performed by BCR Banca pentru Locuinte (BCR BpL) with the support of IRSOP.
An IRSOP poll revealed that at the beginning of the economic crisis, Romanians' plans to improve their houses stagnated, but in 2015 Romanian's interest in relation to the improvement of their housing condition increased. The improvement of the economic feeling boosts housing plans by 12% as compared to 2014, the percentage of people intending to initiate such projects rising from 56% in 2014 to 68% in 2015. As deriving from the poll, high-cost projects are more loan-dependent than the less costly ones, and the money necessary for housing projects increased from an average of EUR 12,000 in 2014 to EUR 13,200 in 2015.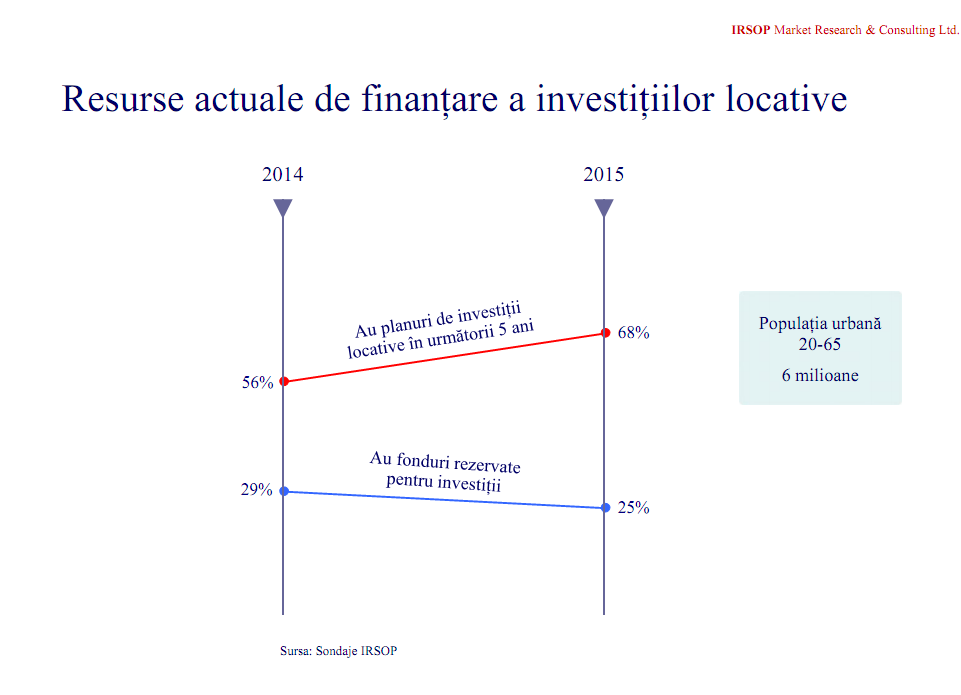 "People make plans, but for their plans to take effect, a key condition is necessary: the confidence that such plans may materialize. And they may materialize provided that the economy is strong and provided that people believe that. But do people believe that? The percentage of people whose trust in economy is low decreased over the years. Conversely, the percentage of people who trust the economy increased. However, the skeptics continue to prevail. As long as people do not fully trust the economy, as long as they are still fearful, they will not be in a hurry to contract loans. They will wait. On the other hand, they will continue to save and wait for the time when more conditions are fulfilled for them to take the step into investment", said Petre Datculescu, IRSOP Manager.
According to IRSOP's poll, when asked how they believe that they would refinance the housing improvements that they intend to undertake, there is a slight increase from 2014 to 2015 of the borrowing trend. At the same time, there is also a high increase or a high percentage of savings made by Romanians as regards the remedy of their housing concerns. Those who intend to purchase want to rely more on loans, while those who intend to renovate want to rely more on their savings. Those who intend to renovate their households benefit from lower resources. They are more fearful, more dependent on trust and support. Therefore, as far as they are concerned, their own savings are the more accessible solution.
The frequency with which Romanians make savings increased, and here we refer both to regular, and occasional savings. The frequency in Romanians' savings saw two scanty periods, in 2011 and 2013, when regular saving reached 16% in both years, and percentages of occasional savers were at the level of 20% in 2011 and 18% in 2013.
"In this regard, here too there is an increase, in particular after the minimum level reached in 2013, occasional and frequent saving were restarted and increased up to 27/25% from saving households. What is interesting is that in 2015 we witness an increase in the percentage of those saving with a view to invest and a decrease in the percentage of Romanians who save as a reserve fund. This points to an interesting fact – namely that saving no longer has the defensive function of protecting the household against difficulties, but it slowly turns towards the investment sector", added Petre Datculescu.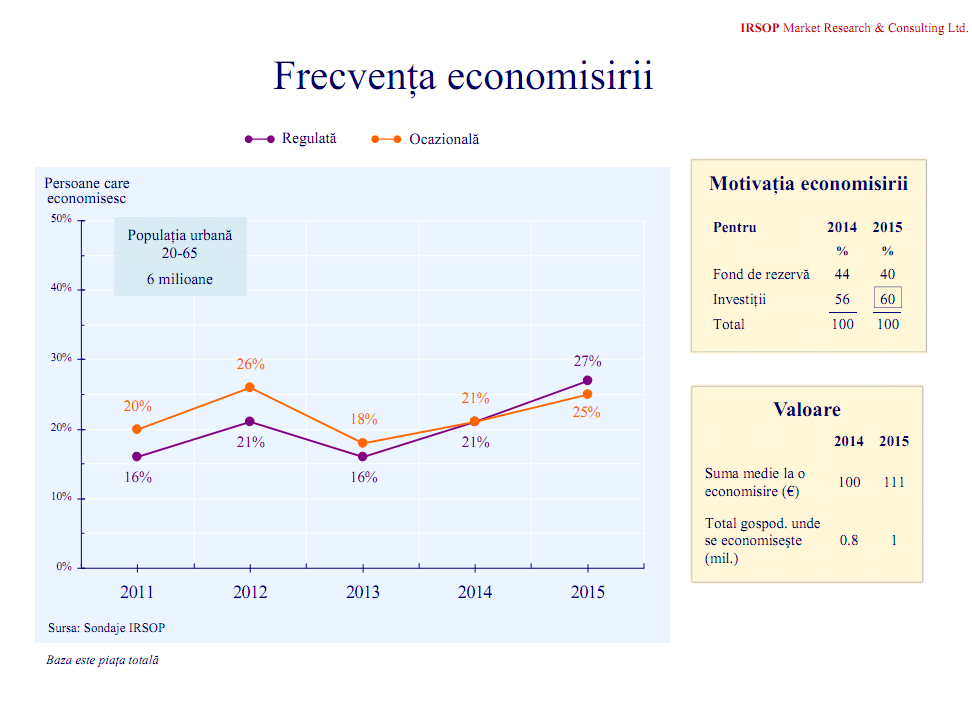 During 2014 and 2015, the regular saving frequency increased up to 27%, while occasional one up to 25%. As reasons underlying the saving trend, there may be noticed an increase in the number of those who intend to use such savings in order to invest in the improvement of their housing condition. Thus, in 2014, approximately 56% of the interviewees said that they intend to invest in the house in which they were living, and this year the rate is of 60%.
Saving-crediting products are products with a long lifecycle. Clients conclude a saving-crediting agreement for an amount reflecting their intentions in the housing area. A certain amount of money is deposited on a monthly (or annual) basis, into the account of the saving-crediting agreement, until it reaches a saved amount of 40% - 50%, depending on the type of saving-crediting agreement. This type of approach towards ensuring future housing comfort requires good planning of own financial resources and personal financial discipline over an extended period of time; furthermore, it encourages citizens' own initiative to play an active role in improving their own housing conditions. 
The government encourages citizens' effort of seeking to improve their own housing situation, by regular deposits, giving up immediate consumption in favor of long-term investments in the housing field. The government's incentive for the citizens' effort is in the form of a state premium (25%, no more than the equivalent in RON of EUR 250/year for the amounts deposited every year). Upon the completion of the saving process and provided that the distribution conditions were fulfilled, the client becomes entitled to access a loan of 50% - 60% of the contracted amount from the savings-crediting bank. Both in respect of saved amounts, and for crediting, the bank provides fixed interest. 
*  *
Banca Comercială Română (BCR), a member of Erste Group, is the most important financial group in Romania, providing universal banking operations (retail, corporate & investment banking, treasury and capital markets), and covering specialty companies working on the leasing market, private pensions and housing banks. BCR is Romania's No. 1 bank in terms of asset value (€14,4 bn.), in terms of client base and in terms of savings and crediting. BCR is also Romania's most important financial brand, judging by the client trust rate and by the number of persons who consider that BCR is their main banking partner.
BCR uses a network of 22 corporate business centres and 23 mobile offices devoted to corporate clients, and 509 retails units located in most communities inhabited by at least 10,000 citizens in order to provide a full range of financial products and services. BCR is Romania's No. 1 bank running on the banking transactions market, since BCR customers have the largest ATM network at their disposal – nearly 2,000 ATMs and 13,500 POS terminals, enabling customers to use their cards for shopping purposes, as well as the complete Internet Banking, Mobile Banking, Phone-banking and E-commerce services.
*  *
Erste Group is one of the main suppliers of financial services in Eastern European Union. About 46,500 bank officers working in 2,800 branches in seven countries (Austria, the Czech Republic, Croatia, Hungary, Romania, Serbia and Slovakia) assist 16.2 mn. customers. Erste Group reported a total asset pool worth €202,6 bn. and a 56.1% cost-to-income ratio at the end of Q1 of 2015. First-ranking common equity index (Basel 3 implemented partially) has improved to 10.2%.
*  *
BCR – External Communication 
Cezar Marin, e-mail: cezar.marin@bcr.ro
This information is also available on our website: www.bcr.ro.
For more details about the products and services provided by BCR, please use one of the coordinates below to contact us:
InfoBCR 
Web: www.bcr.ro
Email: contact.center@bcr.ro
TelVerde: 0800.801.BCR (0800.801.227), toll-free from all national networks.
Twitter: @infoBCR