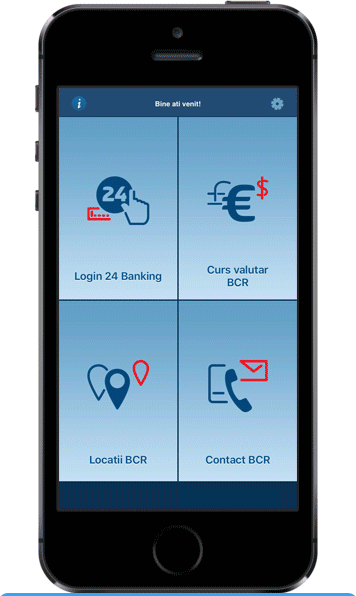 What's new:
Immediate visualization of your account after authentication
An intuitive structure of the existing functionalities, organized in 3 categories: "Operations", "Products" and "Settings"
A friendly menu where you can quickly select the type of transaction you want to perform 

Do you own an iOs or Android smartphone?

1
Open the app
Fill in your personal authentication data:
The Username/Alias chosen by you
The security code
Password
2
Scan your fingerprint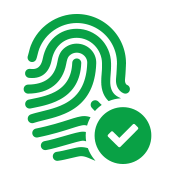 Use your fingerprint to access the application and to confirm transactions. Alternatively, you can opt for a PIN code selected by yourself.
3
Congratulations! You are now logged into the application.
You can use the Touch 24 Banking up securely for all your transactions.
4
Ready! You can use the BCR eToken app safely.
Starting today, you can perform transaction at all times, no matter where you are, just by using your phone
*In order to successfully install the latest updates, your Mobile Banking (Touch 24 Banking) application from BCR will request permissions to access:
Location – will help you to find easily the nearest BCR Branches / ATM
Storage media - You can save the files that BCR is sending you via Mailbox
Camera – You will be able to pay your monthly bills by simply scanning the bar code.
The app version available on your smartphone's browser
The m.24banking.ro app for mobile phones with Internet access, that are not iOS or Android devices.
Here are a few important details which make it worthwhile
If your phone doesn't have an iOS or Android operating system, you can take advantage of mobile banking services by accessing m.24banking.ro on your phone's browser app;
For authentication, use your user name given by contract/your alias and the  password/unique code generated by the Token/eToken.
You can make payments anytime and anywhere, only Internet access is required.
We are concerned with the security of your accounts and transactions taking place through Mobile Banking and we can guarantee 100% safety through various measures:
Through a unique code valid for a determined period of time The eToken mobile app and Token device are, in turn, protected by a PIN code known only by you;
With our automatic disconnecting service, you will be disconnected from Touch 24 Banking after 5 minutes and from m.24banking.ro after 15 minutes of idle time. This security measure is useful in the event that you forget to disconnect on your own;
With the automatic de-activation of login information, after 3 failed login attempts, your login information is automatically de-activated. The purpose is to prevent fraudulent access to your Internet and Mobile Banking accounts.
You might also be interested in