PROTECTION
Against foreign exchange risk

CASHBACK
through George Moneyback

EMBOSSED CARD
Directly attached to your current account in USD/RON/EUR 
OVERDRAFT
Available if you bring your salary to BCR
VISA Classic is a contactless debit card and is issued in RON, EUR or USD. It is an embossed card, specially created for those who travel abroad frequently, particularly in the eurozone.
Here are all your benefits:
George Moneyback: a loyalty program that gives you cashback on your BCR card
Protection against foreign exchange risk depending on the currency you want to trade: EUR, USD or RON
24/7 access to your account from anywhere, anytime via Internet and Mobile Banking, as well as Easy and Alo 24 Banking
PlusInCont loyalty program: a dedicated offers platform that gives you cashback on your BCR card.
 You can access a personal overdraft if you collect your salary in a BCR current account and you can also receive a consumer credit within a limit of RON 500 to RON 40,000, without exceeding 6 net salaries
Easy fund transfers: pay current utility/service bills, and make repayments for your BCR credit card or loan in RON at BCR ATMs and MFMs
Mobile phone top-up for your Vodafone, Orange and Telekom prepaid cards at BCR ATMs and MFMs
Online top-up for your RATB transport card at http://online.ratb.ro and BCR ATMs in Bucharest with integrated contactless technology
You can use the Classic VISA card both nationwide and internationally for direct payments to retailers, online or cash withdrawals at ATMs (in Romania you may withdraw RON and when abroad you may withdraw cash in the currency of the respective country).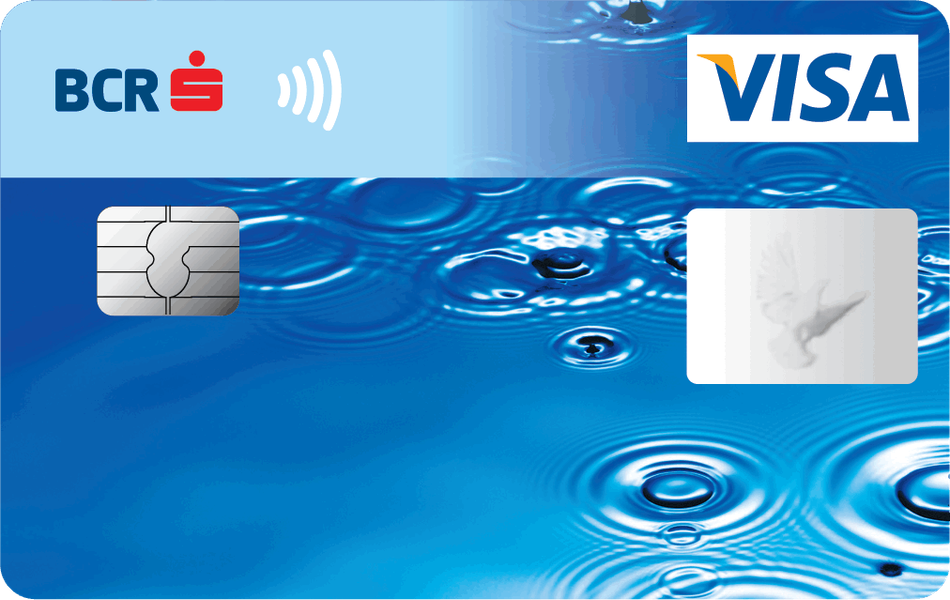 The card that makes you feel like at the Olympic Games
Use the Visa BCR card for cumulative payments of at least 3.000 RON between July 12th - September 5th and you're automatically entering a lucky draw for one of the following prize

5 vouchers worth 1.000 EUR each, which can be used only for purchasing sports items;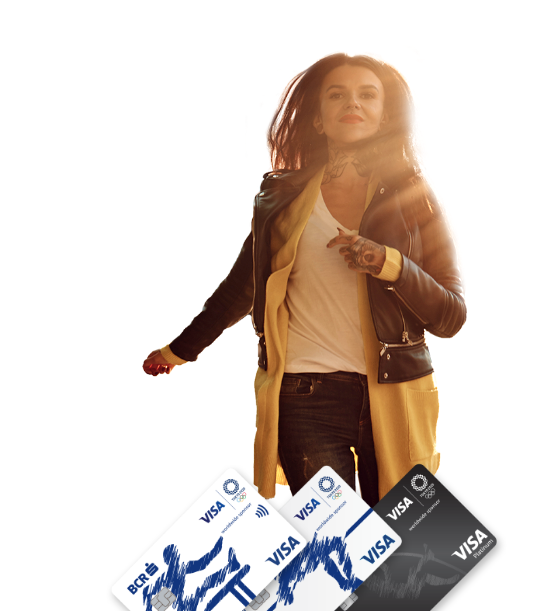 Purchases made with one of the below mentioned cards register you automatically in the race:
Visa Classic debit card in Lei / Euro
Visa Platinum debit card
standard Visa credit card
Campaign supported by Visa. Details in the regulation.

ZERO fees
for having the card

ZERO fees
for withdrawals and balance enquiry at BCR ATMs
Additional information:
Regardless of the issuing currency, USD or EUR, you get an interest rate of 0.01% per year for account deposits over USD 100.
If you have opted for a cash reserve on your card, for the amounts used from the Overdraft you pay the interest rate mentioned here.
1
Please come with your valid ID card to any BCR branch.
2
Sign the Current Account Agreement or the Addendum, as applicable.
3
Within up to 4 working days you'll be able to enjoy your Visa Electron debit card! 
You might also be interested in: